Testimonials
5
5
MetaReview
5
AboutMyClinic
Fully satisfied that I was taken care by the best team in Dehradun Max Hospital. Thanks to everyone.
Mar 23, 2020
Best orthopaedic team to ensure speedy recovery after total knee replacement. Fantastic facilities and expertise gives me confidence to recommend New patients to get their knees replaced without any delay.
Mar 23, 2020
Dr Mayank Gupta
, Patient Relative
Dr Gaurav Gupta is one of the best knee joint replacement surgeon in India. My mom, knee replacement surgery was conducted by Dr Gaurav Gupta. Being a physician, myself living in USA and well aware of evidence-based medicine and advanced medicine. What I observed about Dr Gaurav Gupta is he is very knowledgeable and applies advance evidence-based practice in his Orthapaedics setting. Being a world traveler and met physicians all over the world, I realized Dr Gupta skills and knowledge is at par with anyone in the world. He has low complication rate and admire how well he controls the pain after surgery. My mom was literally pain free in immediate post- operative period. He is meticulous in managing pain after surgery. Being a pain management physician. can vouch for his efforts in managing pain. My mom was very satisfied, and we had excellent experience with his care. I would absolutely recommend him to anyone in India who is looking for knee replacement surgery. He is an exceptional world class Orthopaedics surgeon.
Mar 19, 2020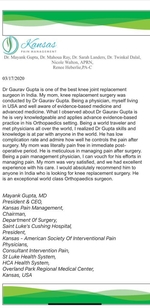 One of the best surgeon in dehradun. During surgery I was quite well, as we was doing conversation so that I don't have fear. Dr Gaurav is good person, and is friendly.
Mar 15, 2020
Good expert of his field. Good orthopedic surgeon Caring nature
Feb 22, 2020
I recommend to my dear and near ones
Jan 27, 2020
I have met with accident on 3 September 2019 my colleagues bring me to the nearest Indresh hospital. Where I have been observed by few doctor under emergency ward. They told my colleagues that there is only 10 percent chances to save my life .. my friends immediately take me off from there to Max hospital where I have been admitted under doctor Gaurav Gupta and team they guys were like God for me. They converted that 10 percent to 100 percent and make me fit as earlier. He is very decent and careing towards his patients. Thanks a lot sir and the whole team for all the efforts that you guys have made to save my life .. Thank you so much and keep others healthy
Jan 1, 2020
Best orthopedic surgeon in dehradun as well as in India. Nice care take in hospital nurses & staff coordinator is good.
Dec 13, 2019
We got our mother's both knee replacement surgery done by Dr. Gaurav Gupta at Max Dehradun in Oct'19. We had a perfect experience with Dr. Gupta and his team. The surgery went fine and the staff was supportive and courteous.
Nov 25, 2019
Very good doctor, I will recommend to my friends.
Nov 20, 2019
Dr Gaurav Gupta is extremely a good orthopaedic expert surgeon with wide horizon of experience.His art of treatment is so beneficial to patient.Even my father got operated from him, at present he is doing extremely well. I recommend other people to take benefit of treatment from him.
Oct 11, 2019
Dr Gaurav Gupta is very experienced surgeon.
Oct 10, 2019
Very good doctor. Staff is also co-operative
Jul 15, 2019
Dr Gaurav One of the best orthopaedic surgeon in Dehradun. He is soft spoken Thanks a lot for your support
Jul 15, 2019
Dr. Gaurav is a well qualified and expert in the field of Orthopaedic and have wide experience for joints replacement.
Jun 29, 2019
AboutMyClinic